Registrations have closed.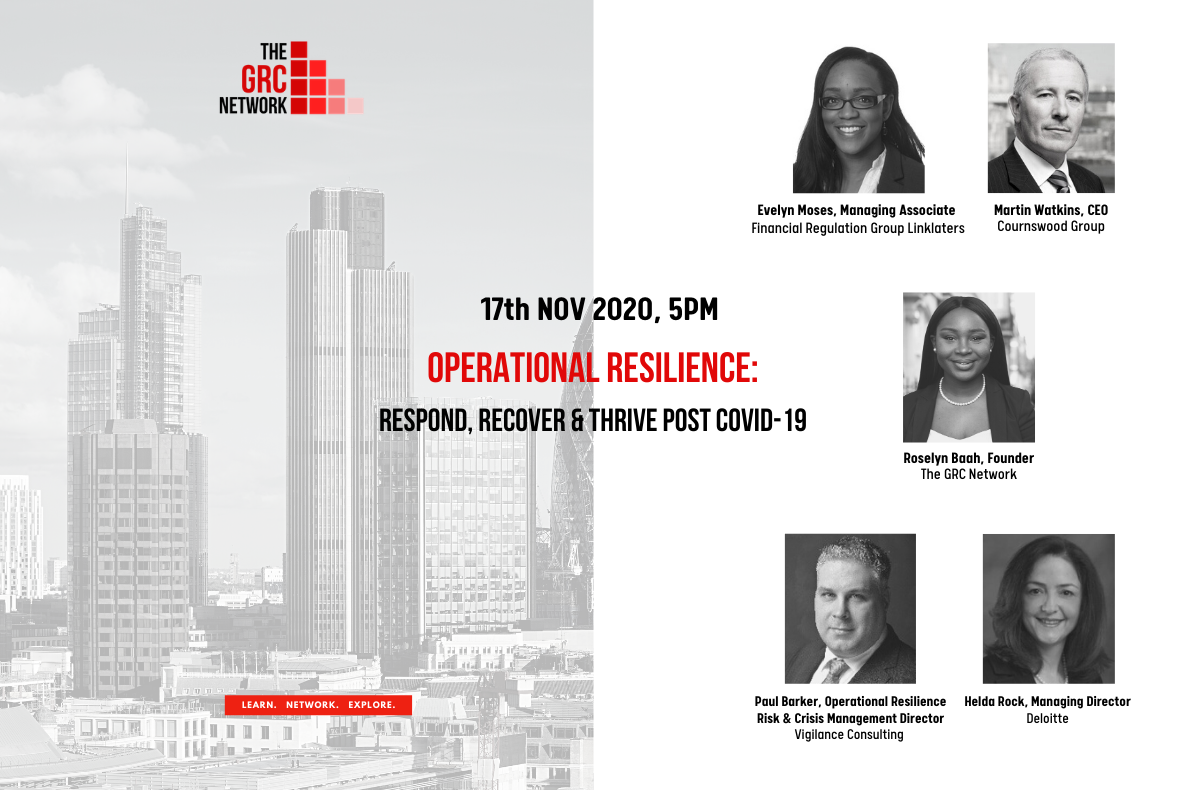 Operational Resilience: Respond, Recover & Thrive post COVID-19
364
364 people viewed this event.
Operational Resilience (OR) has received increasing attention from financial services regulators, predate COVID-19 in recent years, with more signifance placed on this concept in light of the pandemic. As businesses adjust to the unexpected disruption of COVID-19 and the newfound normal, how do we see the approach to OR changing?
This virtual event will help understand how OR has evolved over the years, where it is heading post COVID-19 and how risk & compliance professionals can adjust and adapt to the changing environment
In the session we will explore:
The impact of COVID-19 on OR and lessons learned
How has COVID-19 impacted regulatory and industry thought around OR? How do we see the regulatory environment and regulator's focus changing?
Areas of focus and concerns for 2021
Bullet proofing your BCP to uphold resilience during long-term disruption in the financial sector and many more
Speakers:
Martin Watkins
Martin is the CEO of Cournswood Group, an emerging advisory firm and has 25 years' experience of advising and managing systemically important financial market businesses. He previously held high profile executive management and advisory roles with Exchange groups, FMIs, Big Four audit and global technology firms. Martin was formerly EMEIA Lead for Exchanges and Financial Market Infrastructure (FMI) at EY and a Non-Executive Director of the Chartered Institute for Securities and Investment. His career is centred on the 3 Pillars of Building & Running Companies, Wholesale Finance and Technology. Martin's areas of expertise include firm strategy, governance, market transformation, operational resilience, digital asset and FinTech (DLT/blockchain) for Exchanges, CCPs, CSDs and Information Service Providers globally.
Evelyn Moses
Evelyn is a Managing Associate in the Financial Regulation Group at Linklaters. She has considerable experience advising a broad range of financial institutions on various aspects of financial markets regulation. Evelyn deals with both contentious and non-contentious matters. She advises clients on regulatory compliance issues, including authorisation and perimeter issues, the marketing and distribution of financial products and services, payment services, consumer credit, financial crime, the regulatory aspects of corporate and financing transactions and matters deriving from the European framework for financial services (e.g. MiFID II, IFR/IFD, CSDR, MAR). Her contentious experience includes responding to regulatory investigations and enforcement actions by the FCA, SFO and ICO. Prior to joining Linklaters in 2012, Evelyn trained at Freshfields Bruckhaus Deringer and worked as Investments Legal Counsel at Fidelity International.
Paul Barker
Paul is a certified Operational Resilience Risk and Crisis Management Director with more than 20 years of leadership experience across Capital Markets, Investment Banking, Asset Management, Private Equity and Treasury sectors. Paul works with organisations to enhance their operational resilience capabilities, specializing in establishing robust, risk-based frameworks in highly regulated, fast-paced organisations. Areas covered include crisis response, continuity planning, risk and threat management, internal controls and cyber & information security.
Helda Rock
Helda is a Managing Director in Deloitte Risk and Financial Advisory Practice and a seasoned executive with deep risk and regulatory compliance experience across the Financial Services industry. Since joining Deloitte in 2000, Helda has advised leading financial institutions – top five domestic banks and foreign banking organizations, addressed strategic Board level matters related to risk and regulatory compliance. Helda's specific area of expertise include Operational and Non-Financial Risk. Helda has worked with Investment Banking to Consumer lending lines of businesses to design and execute fit for purpose frameworks and operating models. Helda has taken an active role in engaging with senior stakeholders across global banks in responding to specific regulatory requirements, consent orders, and matters requiring attention in a manner that effectively addresses requirements in alignment with strategic firm priorities. As client's requirements evolved from regulatory compliance to risk and compliance transformation, Helda has worked with senior stakeholders on process re-engineering, risk technology implementation, change management, and operational controls design, execution, and testing initiatives. Her experience with transformation also includes defining and implementing the three lines of defence model for leading brokerage firms. Helda is also a faculty at Columbia University, Enterprise Risk Management Master's program. Outside of delivering client engagement, Helda has responsibilities, as a Senior Partner, to manage portfolio of large banking accounts and risk and compliance relationships and have responsibilities to lead recruiting and training programs to onboard, retain, and mentor talent. Outside of work, Helda is an avid runner and enjoys partaking in Half-marathons and other sporting events. She also likes to travel, read, and prepare school students for corporate careers in consulting.