Registrations have closed.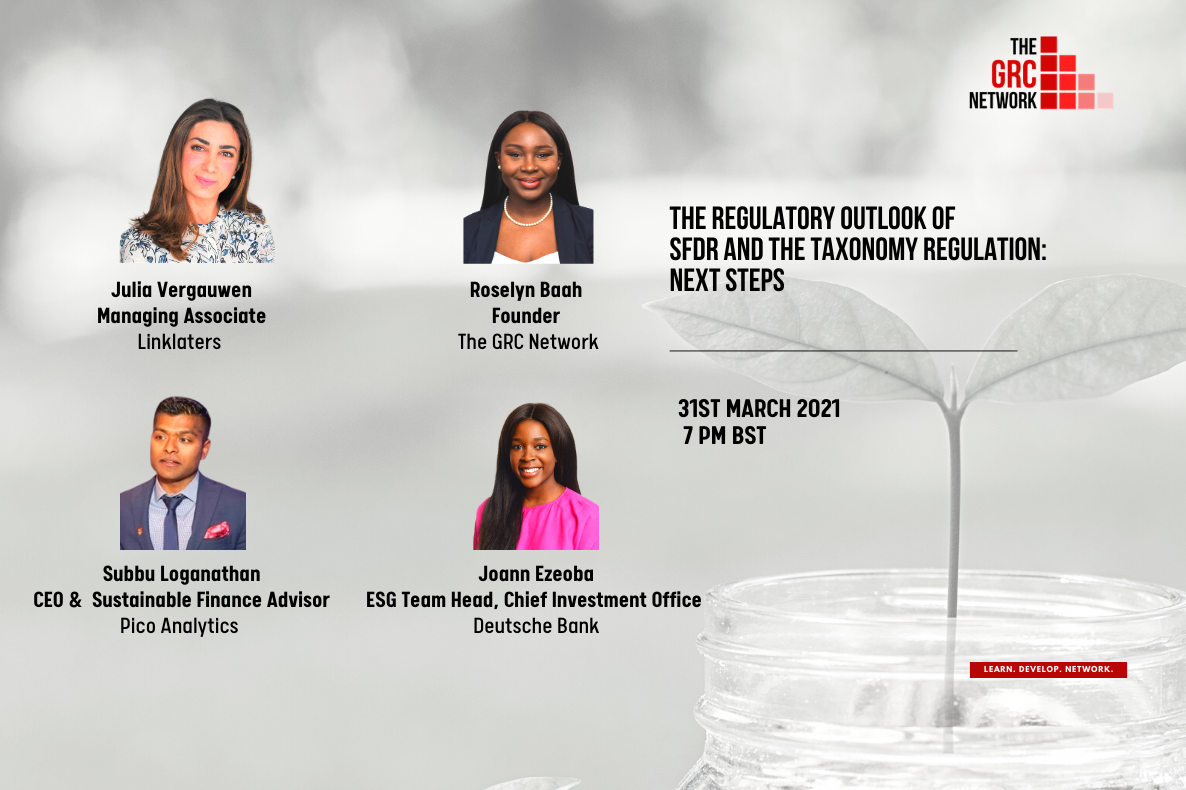 The regulatory outlook of SFDR and the Taxonomy Regulation: Next steps
416
416 people viewed this event.
This event will provide an overview of the EU's SFDR & Taxonomy Regulation, what this means for financial market participants, the next steps post-SFDR Level 1 disclosures, the impact for those working in Risk and Compliance, the regulatory outlook in the short and long term. Join us to hear from experts across the industry followed by a live Q&A.
The webinar will touch on the following:
SFDR Regulatory Recap: practical requirements of SFDR and the Taxonomy Regulation
The role of Compliance and Risk in implementation and monitoring
The relevance of SFDR & the Taxonomy Regulation for UK firms in the short and long term
The regulatory outlook for ESG and many more.
Speakers:
Julia Vergauwen, Managing Associate at Linklaters
Julia is a Managing Associate in the funds team and one of the leading individuals within Linklaters driving the ESG initiative. She works on a cross-practice and cross-jurisdictional bases which ensures integrated and holistic ESG advice to major asset management clients.
Julia has a deep understanding of the technicalities of the EU Sustainable Finance initiatives (including the Taxonomy Regulation and the SFDR) and the commercial aspects of sustainable finance.
Joann Ezeoba, ESG Team Head, Chief Investment Office at Deutsche Bank International
Joann is the ESG Team Head in the International Private Banking arm of a global Investment Bank. She is focused on building a successful sustainable investing offering by making enhancements to products, platform, process, regulation and client engagement methodologies. Prior to this, Joann has worked as both a Big 4 and in-house management consultant, focused on strategy, business model and target operating model change across industries
Joann graduated with undergraduate law degree from Warwick University, and an LL.M in International Law from Georgetown University, with a certificate in Arbitration and Dispute Resolution. In addition to her career, she is passionate about education, diversity and career development for young professionals.
Subbu Loganathan, CEO of Pico Analytics and Sustainable Finance Advisor
Subbu is an industry expert in Sustainable Finance, ESG investing, and UK/EU ESG Regulations. He has over 18 years of experience within financial services, specifically investment banking, asset and wealth management, pension funds and hedge funds. He has also worked closely with the SEC, FCA, Bank of England, CSSF and Central Bank of Ireland over consultations for regulations such as MIFID II, EMIR, Dodd Frank Act, and the EU SFDR.
Subbu is currently the CEO of Pico Analytics, a FinTech company focusing on ESG Analytics and Sustainable Finance, and Asset Management Technology.
Subbu's passionate about sustainability metrics and market-based solutions to address the climate crisis and promote sustainable development and stakeholder capitalism. Subbu has an MBA in Finance from the Indian Institute of Management, Bangalore (IIMB), India. He is a member of the Governing Board of the Commonwealth Human Ecology Council (CHEC), a charity focusing on sustainable development across the Commonwealth.
Moderator: Roselyn Baah, Founder of The GRC Network